The 2021 Subaru Love Promise Community Commitment Award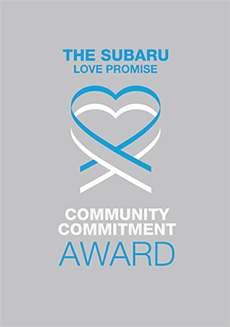 We've been nationally recognized for our dedication to our community and the Subaru Love Promise.
We're honored to receive the 2021 Subaru Love Promise Community Commitment Award. This award nationally recognizes Subaru retailers who are making the world a better place while demonstrating an outstanding commitment to supporting passions and causes in local communities. These efforts are focused in important areas such as the environment, community, health, education, and pets.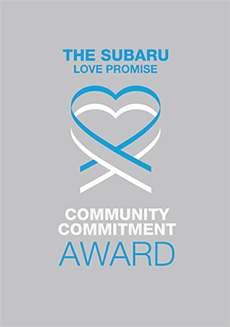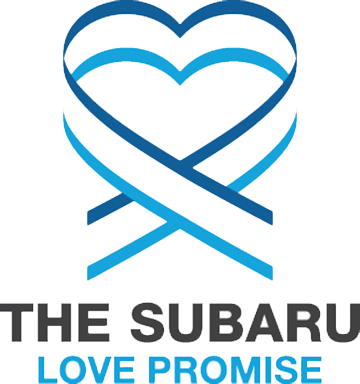 What is the Subaru Love Promise?
Subaru and our retailers believe in making the world a better place and the Subaru Love Promise is our vision of respecting all people. This is our commitment to show love and respect to our customers and to work to make a positive impact in the world.
How is AutoNation Subaru Scottsdale dedicated locally to the Love Promise?
Our Love Promise can be seen in various partnerships with local charities and non-profits. We're grateful for the opportunity, not only to be a part of our community, but to serve it as well.
Love Promise Stories from AutoNation Subaru Scottsdale
Subaru and AutoNation Subaru Scottsdale believe in making a positive impact on the communities in which we live and work. We uphold that belief through our Love Promise Community Commitment. Every month, we select inspiring stories from customers and partners from around our area who strive to support our collective commitment and feature them here
Phoenix Subaru Retailers Pack Emergency Food Boxes - United Food Bank A
The employees of all the local Phoenix Subaru retailers volunteered at the United Food Bank to pack emergency food bags. It was a fun and very productive event! At the end of the shift, they packed enough to feed 770 families! The Phoenix Subaru retailers are proud to donate their time and support to such a great cause. This is just one of the ways the Subaru retailers in Arizona are giving back and being more than just car retailers! Pictured are our proud volunteers from Autonation Subaru in Scottsdale as well as the entire group. Thank you United Food Bank for all the great work you do!
---
BLANKETS FOR THE SHELTERS IN OUR COMMUNITY - DARCEY M
We at AutoNation Subaru of Scottsdale were proud to be a part of a heart warming day providing warm, cozy blankets, donated by Subaru of America, to the UMOM Day Center located in Phoenix, Arizona. UMOM New Day Centers are working to Restore Hope, Rebuild Lives, and End Homelessness. In a single day they have between 500-600 people who live there. The have additional facilities that specialize in Single Women, Teens, and have an Outreach Program in Tempe for College Students. In addition to providing these much needed services, they also assist with Affordable Housing Units in our community. Subaru is proud to offer support so we can work together to end homelessness in our community!
---
Helping the homeless - Darcey M
Through our Love Promise, a commitment to support our local communities, AutoNation Subaru Scottsdale is supporting UMOM NEW DAY CENTERS to help people in need this winter season. More than 500,000 Americans experience homelessness each night. This November, as part of Subaru Loves to Help and in recognition of National Homeless Youth Awareness Month, Subaru and AutoNation Subaru Scottsdale will be donating 50,000 blankets to local homeless shelters across the country to help youth and all people who are without homes. As we enter the season of giving and nights get colder, we want to do our part in making a difference to those who need our help.
---
Pet Adoption at Foothills - John C
Foothills Animal Rescue was chosen as the animal shelter AutoNation Subaru chose to participate in a "virtual" adopt a pet month for 2020.Subaru donated $100 for each pet adopted for the month of September to Foothills Animal Rescue. We look forward to holding these pet adoptions "live" in 2021 and beyond!
---
Autonation Scottsdale Subaru Loves to Help - St Mary's F
The Phoenix Metro Subaru Retailers and Subaru of America employees all volunteered at the St. Mary's Food bank to pack Emergency Food Boxes. It was a fun and hard-working session where we all packed over 31 pallets worth of food for those in need. John and Lucas worked hard putting canned foods and other snacks into the emergency boxes. Thank you, John and Lucas, for volunteering your time and hard work to help the people of Phoenix! This is what makes Autonation Scottsdale Subaru more than just a car retailer!
---
AZAFP shoe drive 2020 - John C
AutoNation Subaru participated in the AZAFAP (Arizona Association for Foster @ Adoptive Parents) annual shoe event for the 3rd consecutive year. The AZAFAP uses the Share the Love money provided by our dealership to fund this project which provides shoes on the youths of their program. Kids get to choose a pair of brand new shoes of their choice. We're proud to be involved with this organization and to see the smiles and gratitude of the children.
---
A True Story - Naomi M
We thank the staff at AutoNation Scottsdale Subaru and The Virginia G. Piper Cancer Center, Honor Health. LLS is proud to partner for a third year in a row to spread hope, love and warmth to those fighting cancer. AutoNation Scottsdale Subaru shared a book written by an employee whose granddaughter was diagnosed with ALL (leukemia) 2 1/2 years ago. LLS has shared many moments with her as she was our 2018 Students of the Year campaign honored hero. The staff at The Virginia G. Piper Cancer Center, Honor Health graciously heard the story and touched by the meaning behind it. We are so glad to report that her last treatment will take place in September and she just celebrated her 6th birthday. Many thanks, not only for a memorable morning, but for supporting LLS's mission to cure blood cancers and improve the quality of life of patients and their families.
---
Patients, a Princess and Blankets! - Naomi M
Not once but twice, did AutoNation Scottsdale Subaru take the opportunity to meet and greet patients at AZ Oncology! Patients were greeted by smiling faces as blankets were handed out one by one. During the visit, Subaru told LLS the story about a hero named "Princess Raven," service manager's granddaughter and ALL survivor. Her grandfather is also the author of Princess Raven's series of books about fighting the evil queen named "Leukemia." Princess Raven is now part of our LLS family and Students of the Year Honored Hero. We are looking forward to this new partnership and thank you AutoNation Scottsdale Subaru for your continued support of our mission!
---
2018 Subaru Loves to Care Blanket Delivery - Patricia E
Adventure Subaru's Love Promise doubled the impact in their second year of giving blankets and care cards to Northwest Arkansas (NWA) cancer patients at Highlands Oncology (HOG). Patients at the Fayetteville and Rogers locations of HOG were able to receive 80 blankets and messages of hope this June for Subaru Loves to Care month. On Wednesday June 27th, Dan McKenna and Nancy Bailey from Adventure Subaru met with Matt Seiler, The Leukemia & Lymphoma Society's (LLS) NWA 2018 Man of the Year and childhood ALL survivor, to deliver blankets to patients in Fayetteville. Jonathan Vogler and Cayla Litterell from Adventure Subaru met with one of the founding LLS NWA Board Members, Brandon Masters, current CML patient, to deliver blankets to patients in Rogers. For LLS staff member, Patricia Eason, being a part of the giving team is very personal and an honor as she remembers how she and her husband felt last year when they were recipients. Henry was so grateful that he couldn't wait for Cayla to help him wrap up and settle in for treatment. We are not sure who smiled the most. The individuals handing out the blankets or the patients who received the love, hope and warmth.
---
Labrador Love - Valerie M
We have adopted several dogs from Desert Labrador Rescue here in Phoenix. Our most recent dog is Ava, a yellow English Lab. Ava's story began at the AZ/Mexico border. She was taken in off the street, given veterinary care and transported to a foster in Phoenix. We were the 3rd people to call to meet her. Luckily for us, Ava did not approve of the first 2 meetings! She made herself right at home when we met. She and Caesar, our adopted Lab/Husky mix are best buds. Ava is my constant companion. There was an instant connection with her when we first met--I knew she was The One. We are blessed to have her and to be able to give her a loving home. After adopting Ava, I became a volunteer and event coordinator with DLRR. We have had several Meet and Greet events at AutoNation Subaru which have resulted in some of our Labs finding forever homes. It brings me joy to see how these rescued dogs blossom in loving foster homes and then go on to there forever families. I'm proud to partner with AutoNation Subaru and look forward to another successful year in 2018!
---
AutoNation Scottsdale Subaru Supports LLS - Naomi M
The Leukemia and Lymphoma Society is dedicated to cure leukemia, lymphoma, Hodgkin's disease and myeloma and improve the quality of life of patients and their families. Currently, an estimated 20,768 Arizonans are battling blood cancers and an additional 3,120 are newly diagnosed with leukemia, lymphoma, or myeloma each year. Because of our great supporters like AutoNation Scottsdale Subaru we are able to assist our patients and families. THANK YOU for all you do!
---
The Beginning of A Partnership - Leukemia and S
The Leukemia & Lymphoma Society- AZ Chapter has joined forces with Subaru Scottsdale to assist patients at Honor Health, Virginia G. Piper Cancer Center. Over 40 patient care cards and 80 blankets will be distrubited to patients receiveing infusion treaments at the center. The providers at the the center were so touched that one of the providers who recently purchased a Subaru vehicle made sure he personally thanked the SUbaru team for their involvement in the community. We look forward to our developing partnership with Subaru Scottsdale and their wonderful team. Thank you for all you do!
---
Subaru and NWF Loves the Earth - Denise M
Our school yard garden at Redeemer Christian School of Mesa, AZ is planted underneath a part sun/art shade place in a remote part of our playground area. Our HS Biology students prepared our spot and planted our young plants. Here is our garden, one month after planting. Thriving and becoming established!
---
Doing Our Part to Save the Butterflies - Joy R
Did you know the monarch population in the United States has declined by more than 90 percent in recent years? For the month of April, AutoNation Subaru Scottsdale is partnering with the National Wildlife Foundation for the Butterfly Heroes Program. Butterfly Heroes seeks to bring awareness to the declining population and connect our community of gardeners and kids, families, and schools alike to help the monarchs and other pollinators. Creating monarch and pollinator habitat is a wonderful opportunity for observing one of nature's most miraculous occurrences. The unique transformation the monarch butterfly undergoes during its lifecycle from egg, caterpillar (larva), chrysalis to the delicate yet resilient butterfly is wonderfully intriguing for students and teachers alike. AutoNation Subaru Scottsdale will have a butterfly habitat planter on site and be giving away seed kits. Stop in and check it out. We also encourage you to be a butterfly hero and grow your own butterfly habitat at home. It's a great activity for the kids or grandkids!
---
AutoNation Subaru Scottsdale supports Arizona Association for Foster and Adoptive Parents - Kris J
The Arizona Association for Foster and Adoptive Parents is a non-profit, statewide organization that serves families who adopt children and provide foster and kinship care. Working in partnership with child welfare professionals and the community, our purpose is to support, educate, empower and provide a unified voice for Arizona's foster and adoptive families, with the goal of increasing the well-being and stability of Arizona's most vulnerable children.
---